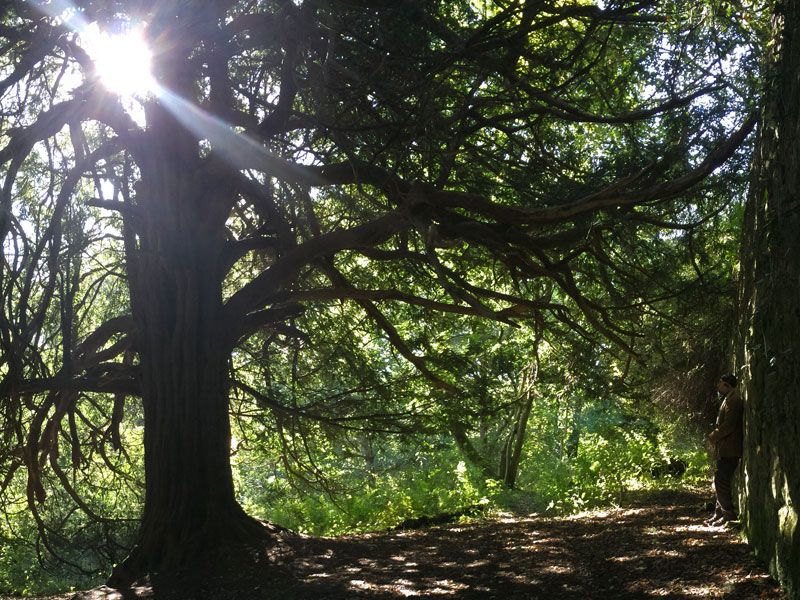 Yew Mysteries: Levels One – Two, May 2019, Shropshire, U.K.
May 4 @ 9:30 am

-

May 5 @ 5:00 pm

|

£200
During the late 1980's Michael became extremely ill as a result of an encounter in the far north of Scotland with a powerful elemental being that he calls the Sulfur Daemon. Several years later and close to death, he was led to an ancient female yew tree in the south of Scotland. Michael spent over nine years under this yew where he was healed and where he was given the template for a spiritual teaching and shamanic healing practice (Yewshamanism) that he refers to collectively as the Yew Mysteries, a mystery school based on the direct transmission of the ancient wisdom of the yew tree Eya - 'tree of eternity.'
The workshops will include direct experience with the ancient yew at Acton Scott.
Folks who attended the Level 1 and 2 last year are welcome to repeat... it was so packed full of content and depth of experience!  Save the date: Michael will be returning to offer Level 3 on Oct 5th and 6th 2019.
Price: £200 for the two days, includes lunches and snacks, plus basic camping or floor space, on Friday and Saturday nights.  Bring your own breakfasts and food to share for suppers.
Reserve now with your deposit:
This will be a small group of 30 max, so secure your place send a £50 deposit to Lynn-Amanda at https://www.paypal.me/lynnamanda (Full refund if you cancel before April 12th) ...or by cheque to:
Lynn-Amanda Brown
11 Bro Derfel, Tregarth, 
Bangor, Gwynedd,
LL57 4RR
For more information contact:
Lucy Wells - lucywells@myphone.coop, 07579001855
or Lynn-Amanda - lynn-amanda@hotmail.co.uk, 07866905477
There are plenty of B and B's nearby if you need accommodations.