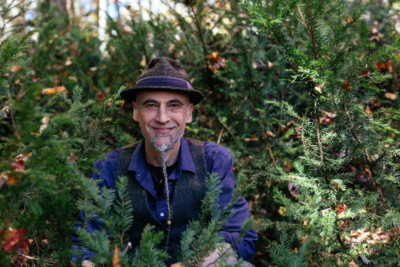 During the late 1980's Michael became extremely ill as a result of an encounter in the far north of Scotland with a powerful otherworldly being that he refers to as the Sulfur Daemon - Daemon is not meant here in the Biblical or Medieval sense but as related to the Sanskrit Deva, meaning 'to shine' or' shining.' Several years later and close to death, Michael was led to an ancient female yew tree in the south of Scotland. He spent over nine years under this yew where he was healed and where he was given the template for a shamanic practice (yewshamanism) and a mystery school based on the direct teachings of the yew tree as custodian to the vast healing and regenerative powers of the Otherworld, (Annwn.) Michael refers to the teachings of the yew as the Yew Mysteries.
Michael emigrated to the USA in 2003 and currently resides in rural Western Massachusetts.
While living in Scotland Michael studied Craniosacral Therapy with Donald Howitt D.O. and offers a two -year foundation training, individual sessions and practitioner mentoring in a unique form of Biodynamic Craniosacral Therapy.
Michael currently teaches the Yew Mysteries in Wales and Scotland, UK as well as in USA.  He has written about his experiences with the yew in the book Soul Companions and in many other publications including Sacred Hoop and the Journal of Contemporary Shamanism. Michael is currently writing a book about his experiences with the yew.
Public Engagements
Michael has offered classes, workshops and presentations at the following venues, events and locations:
Still Meadow Conference and Retreat Center, Portland, OR

The Sacred Circle of Great Mystery Shamanic Society, Squamish, BC Canada

Salt Spring Island, BC, Canada

The Faery Congress, WA

Clark University MA

St Michael's College VT

The ARC (Alternative Research Community) Convention, Bath UK

Cranwell Resort, Lenox MA

Earthdance, Plainfield  MA

The Green Mountain Druid Order VT

Spirit Fire Festival NY

Rites of Spring MA

Feast of Lights MA

Sacred Stone Center For Holistic Education RI

Unicorn Books and Spiritual Resource Center MA

Nine Mountain Retreat Center MA